Frequently Asked Questions About Our Meal Plans
Are these meals customizable?
They sure are! We offer several options when you first create your Meal Plan Template and make your initial purchase.
Where do I put in my 'Order Notes'?
Before you check out, put in your information in the form and scroll all the way down to enter your Order Notes! Seen in this image here: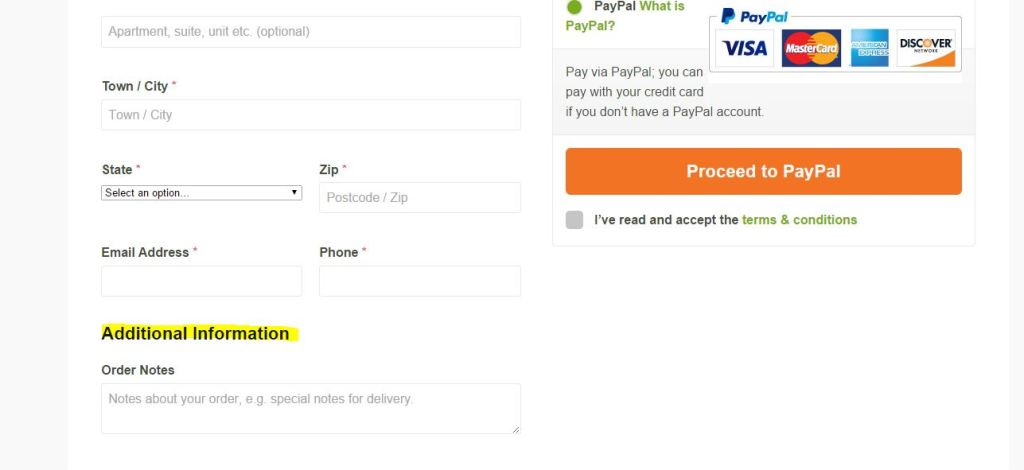 I ordered from you. Now what? And what's a Meal Plan Template?
Once your payment has cleared (you'll get an email confirmation!), we'll add you to our ever-growing list of customers. The customized meal plan that you paid for will be your set template for how we make any and all your future meals. We assume that your decision to order from us means you are fully embracing a new, healthy lifestyle and will therefore place a recurring payment on your account and continue to make meals for you from that template until you contact us saying otherwise.
Do you use preservatives? Sodium? What are your ingredients?
We strive to only use ghee butter (which we make in house), Avocado Oil, Olive Oil, and Coconut Oil.
We make ALL of our own spice mixes (meatloaf, burgers, taco seasoning, Cajun seasoning, etc).
We make our own dressings (Ranch, Mayo, Sriracha, Caesar, 1000 Island, Ginger-Sesame, Dijon-Vinaigrette).
We get all of our beef, turkey, pork, chicken from local farmers and butchers and only buy wild fish - never frozen, never farmed.
We never use table salt, sugar, preservatives, dyes, etc.
How long to meals last in fridge? Should I freeze them?
Upon delivery, your meals should be stored in a refrigerator within 2 hours. Meals can be stored in your fridge for up to 7 days, or frozen for up to three months.
If you have any health-specific or training-specific needs, PLEASE let us know in the Order Notes section before you complete your order. If you forgot to do so, contact us IMMEDIATELY with our Update My Order form!
What is your return policy?
As stated on our Terms and Conditions page:  No Refunds can be given once your order has been submitted due to the nature of our product (perishable food). You can, however, update or change your order by contacting us through this form!